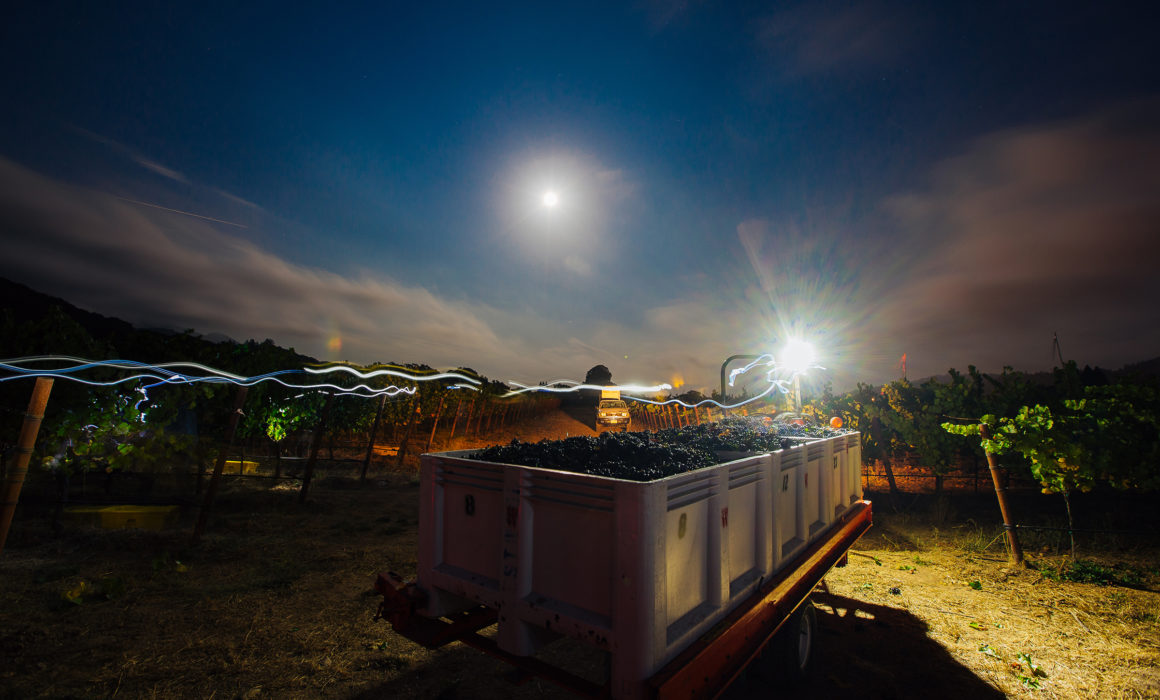 It was a warm, late summer's night in the Annadel Gap estate vineyard—and, unexpectedly, I was learning all about astrology. Amid the lush vines bulging with Pinot Noir under the near-full moon in this Sonoma Valley AVA vineyard, winemaker Ben Cane was leading the harvest crew with full steam, while filling me in on Westwood's winemaking philosophies.
Biodynamic winemakers believe that everything in the universe is interconnected—including celestial bodies like the moon, planet, and stars. Finding the balance between those celestial bodies and vine, man and earth provides the ultimate recipe for sustainable agriculture. All the various tasks, from planting, pruning, to harvesting, are regulated by a special bio-dynamic calendar.
The concept of biodynamic farming follows an ethos composed in the mind of the Austrian philosopher Rudolf Steiner in the early 1920's, and the tenets are fairly simple: No synthetic chemicals—including most pesticides and herbicides—can be applied to vines, and no acid, sugar or enzymes can be added to wine in production. As an alternative, vineyard workers use insects, compost and cover crops on the land.
Tonight I was here at a very unique vineyard site in the northeastern end of the Sonoma Valley AVA. Nestled between Annadel Peak and Hood Mountain lies Annadel Gap Estate vineyard, which is comprised of 22.7 planted acres, precisely defined by 27 blocks and sub-blocks. The site is planted to Burgundian & Rhone varietals, including Pinot Noir (13.1 acres), Syrah (4.6 acres), Grenache (1.68 acres), Mourvedre (1.6 acres), Counoise (0.72 acres), Tannat (0.49 acres), Roussanne (0.17 acres) and Viognier (0.12 acres). The 13.1 acres of Pinot Noir are dedicated to diverse and rare Pinot Noir clones—Dijon Clones 115, 667, 777 and 943; Heritage/Field Selections Pommard, Mt. Eden, Calera, Chambertin and Martini. Syrah was also planted with diversity in mind—100, 174, 877 and Tablas Creek.
This may sound like a lot of different grape varieties, but the overall hand-crafted production is small, with less than 3,500 cases produced.
As the picking bins were filled, the first glimmer of sunlight could be seen, signaling the end of a shift for the hard-working harvest crew—but just the beginning for the cellar team.