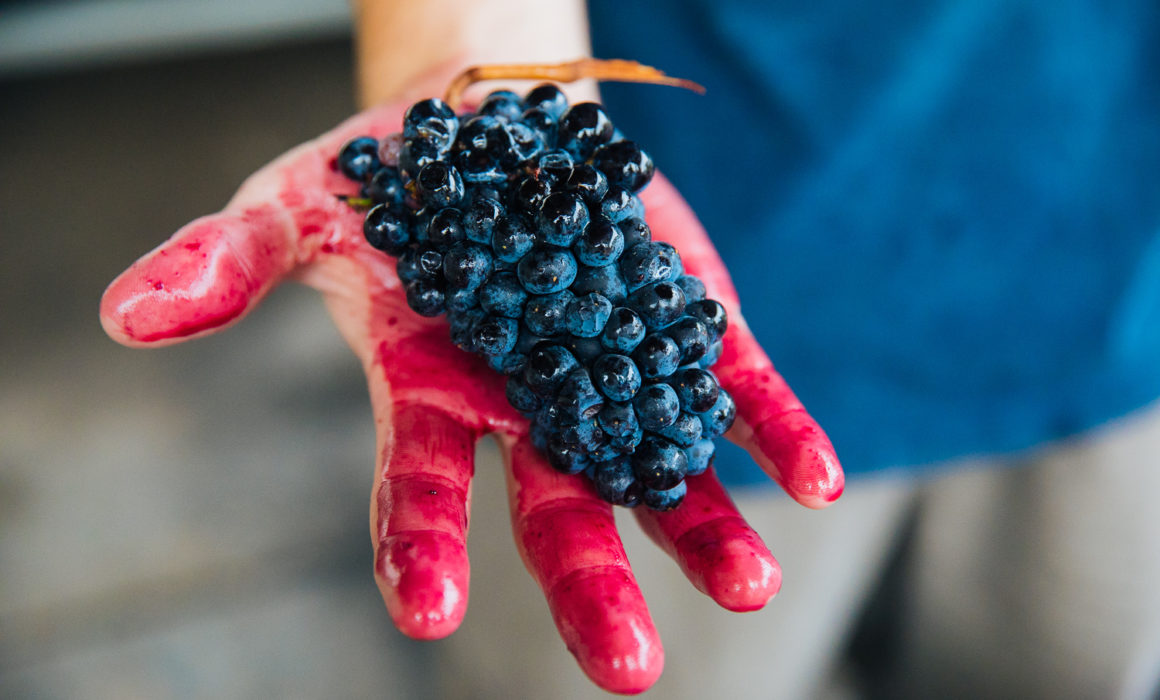 The 2017 Cakebread Pinot Noir harvest was one for the books! Harvest is always a fun and exciting time in the winery, but the lead-up often brings an extra level of complexity, and this vintage was no exception.  Mother Nature brought abundant rainfall during winter, producing vigorous vines, followed by extreme heat over Labor Day, kicking harvest right into high gear.
Capturing the buzz at Cakebread Cellars during this time was truly one of my most memorable photoshoots yet.  The day for these grapes started with a night harvest at the Annahala and Apple Barn Estate vineyards – known collectively as Two Creeks Vineyards in Anderson Valley.  Here, the marine-influenced climate and warm, sunny afternoons provide the perfect stage for growing nine superior pinot noir clones.  By the time I was on-location at the winery in Napa just after sunrise, the fruit had just arrived from the vineyard and was ready to be sorted.
Meanwhile back at the winery, where the air was filled with aromas of juicy, fermenting fruit, the cellar team was equally as busy – grapes were hand-sorted, while tanks were drained and filled and pumpovers happening all around. Needless to say, harvest is truly an all-hands-on-deck job, with head winemaker Julianne Laks leading the charge.
There is no denying that during harvest an incredible amount of hours are spent in the vineyards and at the winery… I'm talking sometimes up to 100 hours a week. Cakebread's crew had sky-high spirits and remained strong throughout the long days, fueled by shared laughter and camaraderie. Their spirits were infectious, making this day not only one of my most unforgettable and fun shoots, but also one of my most treasured Napa experiences.

And in case you're wondering what Julianne's verdict is for the '17 Pinot….Let's just say she cannot wait for us to try it.